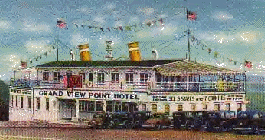 On October 27th 2001, the ship fell due to fire!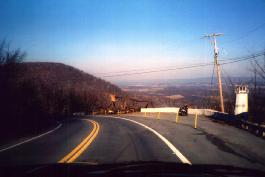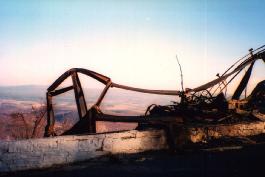 These pages are dedicated to the fond memories Pennsylvanians have for their visits to the Ship Hotel.
If you traveled with the Western PA Region, AACA on the 1999 Founders Tour, you drove past the Ship Hotel on Route 30.
The Ship Hotel was an actual hotel and restaurant in shape of an ocean liner with a tremendous vista over Western Pennsylvania's Allegheny Mountains. The signage has proudly boasted since the 1920s:
"Overlooking 3 States and 7 Counties".
The Ship was the inspiration of Herbert Paulson, who in mid-1920s started with a stand just above the Grand View lookout (which was nothing more than a brick wall at the time). He added picnic and camping sites across the road from the stand and called the complex "Grand View Park".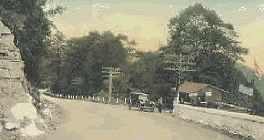 In the late 1920s, Paulson expanded the stand into "Grand View Point Inn". Then later, it was enlarged and decorated with a castle theme and a matching gas station was added across the road. The building had 4 floors with the top floor serving as dining room, gift shop and lookout deck (complete with captain's wheel, life preservers and telescopes). The two floors below were hotel rooms and the ground floor was for overnight parking.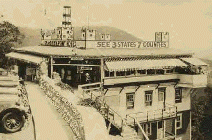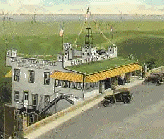 In 1931, Paulson expanded the place again. He considered a fish-shaped building but didn't have enough money for a fantail and enlarging the castle would have blocked the view so he settled on the ship shape. The grand opening of the "S.S. Grand View Hotel" was in 1932 and 500,000 visitors came on opening day. It was a big tourist attraction with log books filled with celebrity names. The Dining Room had painting friezes with marine themes and waiters dressed in naval uniforms.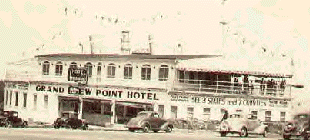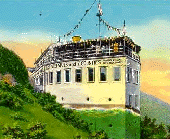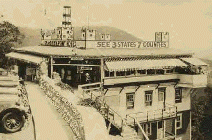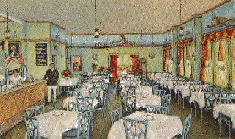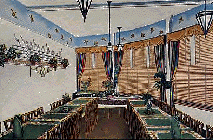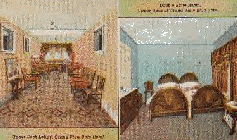 Business dropped off in the 1940s when the Pennsylvania Turnpike was built. The Ship was sold in the 1970s and its new owners tried to revive it as "Noah's Ark" – putting a zoo over by the gas station across the road. They added a wooden shingled façade to make it look like an ark.
But that failed and the ship has sat sadly derelict since 1989. Squatters took up residence and hung laundry on the side of the ship to dry. An electric meter was installed in the Summer of 2000 when the Ship was cleaned up and the squatters were kicked out. The owner put a lamp in the window and a radio played big band music inside. The Lincoln Highway Heritage Corridor Committee was interested in buying the Ship for a Visitors Center. But they could not come up with the owner's million dollar asking price.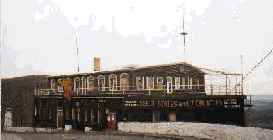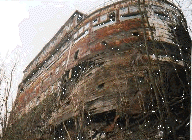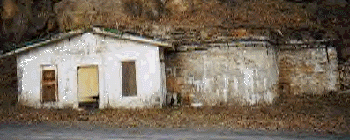 On October 27th the ship fell due to fire. A total loss. Truly a sad day for those of us that treasure our child hood memories of visiting the ship.