Western PA Region, AACA meetings are held on the third Tuesday of each month, excluding the months of December and January. Meetings are held at the American Legion Post 982, (Pipetown) Hall, Latrobe, PA 15650, starting at 7:30 p.m.
We Are Back!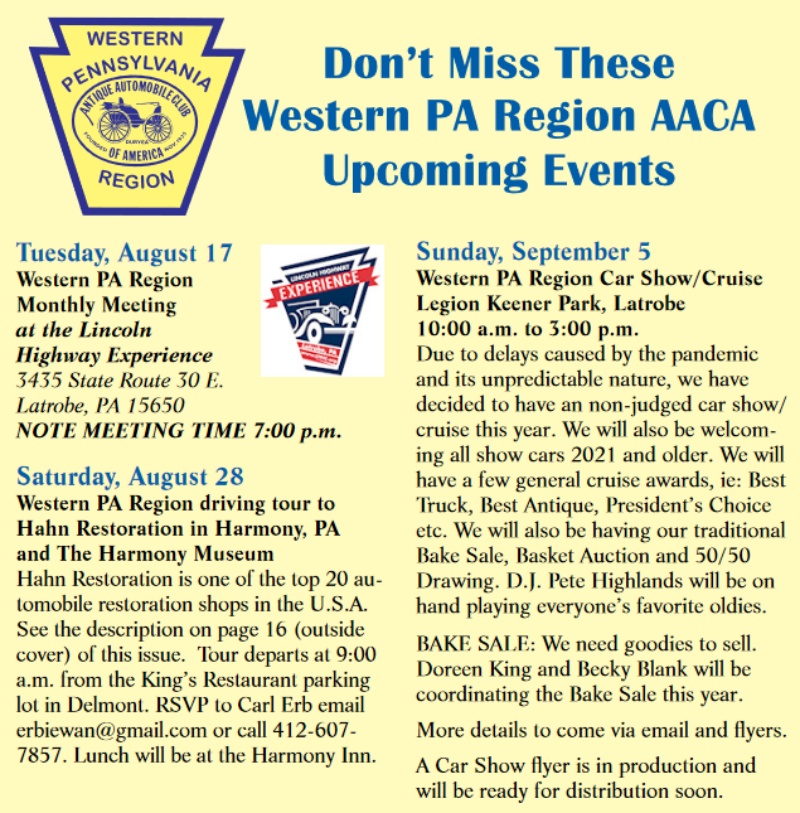 Other Local Events
Sunday, August 8
20th Annual Trinity Lutheran Church
Car Hop
Trinity Lutheran Church
331 Weldon St., Latrobe, PA 15650
12:00 noon to 5:00 p.m.

Friday, August 13
The Stroll - Ligonier's Car Cruise
Downtown Ligonier, PA 15658
5:00 p.m. to 9:00 p.m.

Saturday, August 14
Cruise for Conservation to Benefit
the Sewickley Creek Watershed Assoc.
Donohoe Center
218 & 214 Donohoe Road
Greensburg, PA 15601
10:00 a.m. to 3:00 p.m.

Sunday, August 15
Greensburg FD Hose Co. No.1
Car and Bike Cruise
6 McLaughlin Dr. Greensburg, PA 15601
12:00 noon to 5:00 p.m.

August 18 - 22
The 41st Annual 1953/1954
Buick Skylark Club Meet
Host hotel - Springhill Suites by the
Arnold Palmer Regional Airport
Beautiful Buicks will be touring sights in
the Laurel Highlands on these days.

Sunday, August 22
Saltsburg Car Show for
Homeless Veterans
11:00 a.m. to 4:00 p.m.
Iselin Community Park
1782 Iselin Rd., Saltsburg, PA 15681

Sunday, August 5
Western PA Region AACA
Car Show/Cruise
10:00 a.m. to 3:00 p.m.
Legion Keener Park, Latrobe, PA 15650
All Show Cars 2021 and older

September 11
Waynesburg 50's Fest
Downtown Waynesburg, PA 15370
10:00 a.m to 4:00 p.m.

Saturday, October 9 and
Sunday October 10
Idlewild Halloween Boo Cruises
Idlewild Park
2574 US Route 30
Ligonier, PA 15658

Please check our web page for addition information when it they are scheduled