Email

Region Directors

Web Editor

Directions to Meetings

Membership

Car Show

Events

Chance Car

Newsletters


Back To Grand National Home Page (click here)

Grand National Printable Brochure (click here)

Help with Registering (click here)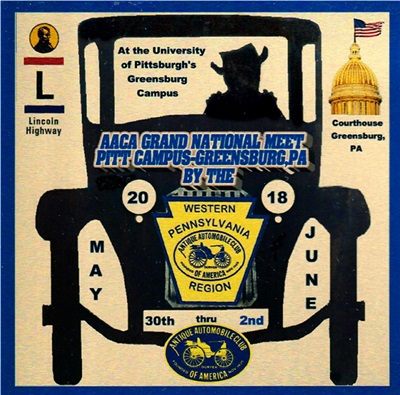 Official Dash Plaque

Hello fellow members! My name is John Kuhns Jr., and I'm the chairman of the 2018 Grand National Meet in Greensburg, PA. I just wanted to take some time to address the questions. If there are any other questions or issues please feel free to call me at (412) 558-0994 M-W-F 6-8PM EST, this is the best way to reach me. I seldom use the computer, but always answer my phone. I look forward to everyone coming and having a great time. Thank you!


| | |
| --- | --- |
| Trailer Parking: | We have two different areas for trailer parking. The host hotel (The Ramada Inn and Suites) and the Westmoreland County Fairgrounds. Both locations are approximately 3.5 miles from the show field. The Host Hotel has extremely limited parking availability. The cost for the preferred parking at the host hotel is $75 and you MUST have a permit issued from our club to park there regardless of whether or not you are staying at the hotel. Anyone who heard otherwise was misinformed, and the hotel staff has been made aware of this. The parking at the fairgrounds is $25 for the weekend and free if you are coming in on Saturday morning. Both trailer parking areas will have security. |
| | |
| Spectator Parking: | There will be free spectator parking at the Westmoreland County Fairgrounds on Saturday June 2, 2018. A shuttle bus will run continuously from 6:00 AM till 4:00 PM. There is no fee for spectators for parking or the shuttle bus. |
| | |
| Host Hotel Reservations: | The host hotel is TOTALLY BOOKED. Additional hotels in the area have been blocked off and reservations are still available at the Hampton Inn, The Springhill Suites and the Holiday Inn Express. |
| | |
| Loading & Unloading: | There will be no areas at the Show Field for loading and unloading. If we end up letting one person do it its not fair to everyone else. Unfortunately, that just the way the show field is set up. |
| | |

I believe in being transparent and upfront with everyone to avoid issues moving forward. I want everyone who registers to come and have a great time and I'm really looking forward to the event!

For more information please contact:
John Ross Kuhns III @ 412-558-0994 or
John Kuhns @ 412-554-3321
(please limit phone calls to Monday, Wednesdays & Fridays 6pm-8pm eastern)