SEPTEMBER 2004 WESTERN ROUND-UP
The files are large so they may take a while to load.
But they are worth the wait.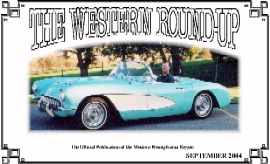 Click here for September Front Cover Photo

"Click Here" for September 2004 ROUND-UP ON-LINE
(open and print the following pdf files for a 8"x11" full color Newsletter)
Cover Page


Pages 1 through 6


Pages 7 through 8 (Meeting Minutes)


Pages 9 through 13



WOW!
View & Print in color!
Newsletter august take time to load, please wait.
(pdf format - If the page does not load
you do not have a program installed to read .pdf formatted items.)
Please click here for help with pdf files.

You are the
person to visit this page
since it was updated on 08/06/14
---